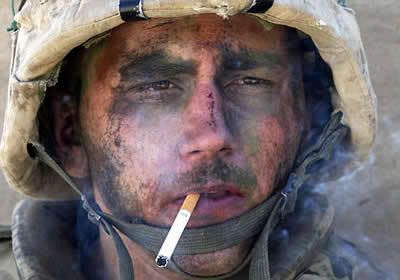 Shakespeare wrote, "The quality of mercy is not strained."

Our

mercy will soon be tested.

Few Americans sense the approaching cloud of grief. It will sweep over our land as waves of soldiers return from war, wounded and dispirited by post-traumatic stress. Until now, civilians have been strangely exempt from sacrifice. The soldiers' work will end. Ours is just beginning.


If we supported the Iraq war, now let us show it. Help a soldier carry war's everlasting pain. If we were opposed, holding compassion more noble than war, now let us give that compassion to the warrior. Never again neglect the veteran, as we did after Viet Nam. And if we blame, let us blame the dreamers of this war who never fought, not the fighters who shoulder the nightmare.


Connect with a veteran's family. Share meals with them. Listen without judgment. Breathe a soldier's trouble into your heart. If they can't speak about it, don't abandon them to isolation. Keep returning to say, "I'm here for you." Walk along a beach beside them, skipping stones into silent water.


We are chastened yet wiser now, called not to the arrogance of empire, but the quality of mercy.

(First published in the Seattle Times, May 28, 2007)
_________________________

I teach Old Testament and World Religion courses to soldier for college credit. It's a distance learning program, and most of my students are in Iraq. I ask them to write their own Psalms and Laments, using the ancient Hebrew literary forms and filling them with their own experience. The following 'Soldier's Lament' speaks for itself. It was written by a soldier who has been in the infantry for 16 years. Thank you, D.L.



A SOLDER'S LAMENT

Lord, be with me and watch over me, because those who plot my death are many and dangerous.

The dangers are many in this place where I dwell; home is so far away and the days are lonely.

The faces are strange and the language so different; hate can be seen in their eyes each day.

My family I have left, so that I can protect those who cannot protect themselves; but who protects me in this place that is not my home?

Trouble and death fill my heart, because this could possibly be my last day.

Lord, be with me and keep me safe; bless my courage and strength.

Keep my enemies away, dear Lord. Weaken their hearts' desire to rise up against me; cast down their will to fight; and make my strength endure their hatred.

You have never forsaken me; you keep me close to your bosom.

Bring me home to my wife and children, so that my eyes can see no more death and pain.

I have wept for friends you have called home to you, but your love has kept me here.

Strengthen my hope and courage, so that I can strike down my enemy.

I crave the courage to perform every day, but it is you, dear Lord, who feeds that hunger; I need to go on.

Strengthen my hope and courage so that I can strike down the wolf that stands at my door.

I feared death and wanted to cower; you comforted me, and became my sword and shield.

Let peace fall unto the children of Babylon, so that the Eagle may depart the unforgiving land.